Isn't it true that healthy hair and great haircut play a very important role in every woman's appearance? If you are wearing the wrong haircut, all that trouble you put in clothing and makeup is in vain. It's important to adjust your haircut to your face shape. No matter how much you like different glamorous hairstyles, if they don't suit your face, you will never be satisfied with the way you look. So, in order to find just the right haircut, take a look in the mirror and find your face shape. Don't forget to tie your hair in a ponytail or put it behind your ears so that it doesn't cover your face. There are only six shapes to choose from, take a look. Whatever hairstyle you decide to wear, make sure that it suits your fashion choices and that you feel good when you look at yourself in the mirror.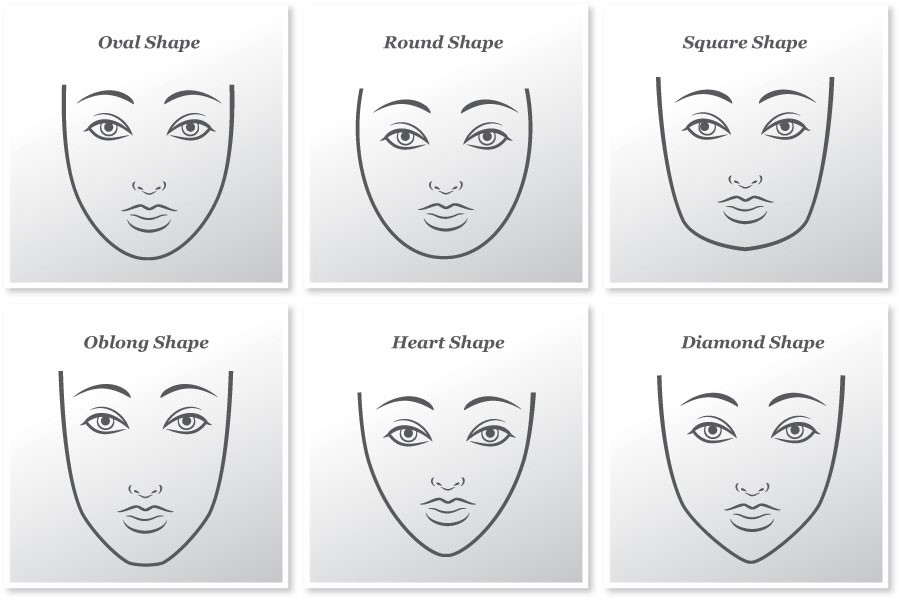 Visit us at addcolo.com for 100% premium quality natural hair wigs if you want to try new and exciting hairstyles without cutting your hair or waiting for your own hair to grow out.
Round face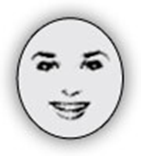 Characteristics: Persons with round face have very pronounced facial bones, as well as       wide and short forehead and chin. The length of the face is usually almost equal to its width, and facial features are a bit rounded.
Hairstyle: What you should try to accomplish with your haircut for this face shape is to visually elongate it. Because of that, this shape is flattered by asymmetrical hairstyles and hairstyles with playful strands of hair partially covering the face.
Ideal hair length is a bit below the chin, which visually makes the face appear longer. If you prefer long hair, have a cascade cut for the same effect, and you can also experiment with locks of various lengths. If your choice is short hair, leave it longer on the top of your head and shorter on the sides.
We recommend volumizing both straight and curly hair at the top of the head to visually elongate the face. This face shape is also suited for bangs – asymmetrical, straight, short or long. They will frame the face any way you cut them.
Very sleek hairstyles or ponytail will only emphasize the roundness of your face, so you should avoid wearing those. Ponytail can be combined with bangs, but only if you wear it loose. Perfect example of a round-faced beauty, here is Emma Stone.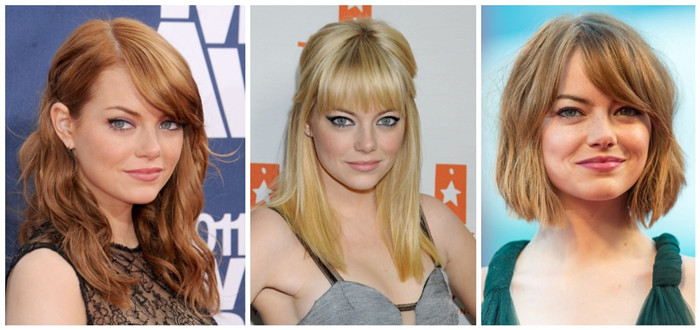 photo credit:google.com
Oval face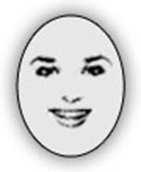 Characteristics: Oval face is characterized by high and narrow forehead and round chin, which are approximately equally wide. Cheekbones are emphasized and usually a bit wider than forehead and chin.
Hairstyle: if your face is oval, you are lucky – almost all hairstyles suit the oval face, no matter if you like long, medium or short hair.
You can experiment with various hairstyles, but you shouldn't cover it with bangs or strands of hair close to the face. You will accentuate your face with updos for an elegant look. If your hair is curly, cut it in a cascade for a perfect frame. Salma Hayek is proof that every hairstyle works with oval face.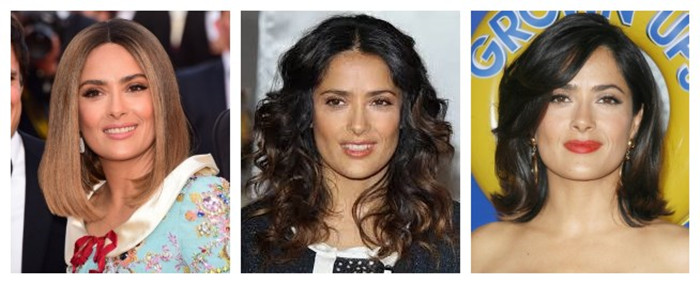 photo credit:google.com
Square face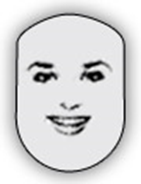 Characteristics: Square face are characterized by approximately the same length and width, but the jaw is square shaped. The width of forehead and jaw are also the same.
Hairstyle: Square face is best suited for layered hairstyles which will soften the sharp facial features. Equally effective are curly hairstyles and uneven, thinned down strands. You can experiment with hairstyles, but straight hair is not recommended, especially if its length is the same everywhere.
Bangs are an excellent choice, if they are cut in layers or combed to side. Avoid thick, straight bangs, as well as straight edges and geometrical hairstyles.
The ideal length of hair is bit below chin, and with some layered haircuts, even above chin. Be careful that your hair length is not in the chin line.
Sweet Natalie Portman wears all the right hairstyles for her square shaped face.

photo credit:google.com
Heart-shaped face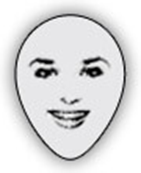 Characteristics: This face shape is characterized by wide forehead and cheekbones and small chin, which typically isn't prominent.
Hairstyle: Haircut should make the beard look wider and accentuate it while making the forehead look smaller. This can be accomplished easily by cutting your hair close to your chin. Medium length bob will look great on you, as well as wavy hair. Asymmetrical cuts and layered hairstyles will also do wonders for your look.
Try to avoid bangs, but if you do want to try them, have them combed to side and definitely don't cut them straight. Also, sleek hairstyles which accentuate the top of your face are not recommended.
Eva Longoria always accentuates her chin with these layered hairstyles.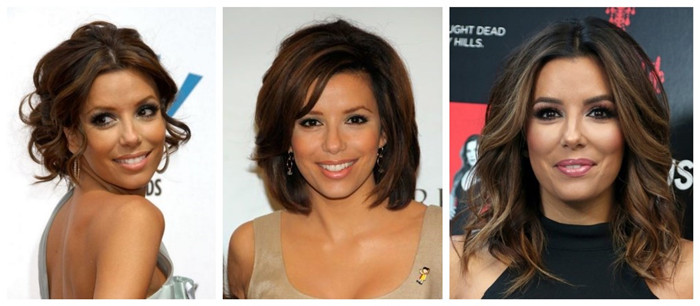 photo credit:google.com
Oblong face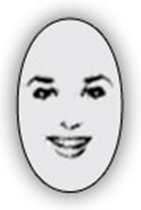 Characteristics: Oblong face is characterized by high forehead, longer cheeks and commonly narrow and sometimes square chin. Forehead and jaw are approximately the same width.
Hairstyle: This face shape is flattered by haircuts which make the face look shorter. Ideally, you should wear waves around your face, mild curls and flirty haircuts. Straight long hair, especially if parted in the middle, will only visually elongate the face, so you should avoid those haircuts.
Ideal hair length is up to chin and shoulders, but you can also wear shorter messy haircuts.
Bangs will disguise the length of the oblong face and are an excellent choice. We recommend straight and thick bangs, which will also look good if you wear them messy.
Meryl Streep is a real lady and always looks glamorous with her wavy shorter hairstyles.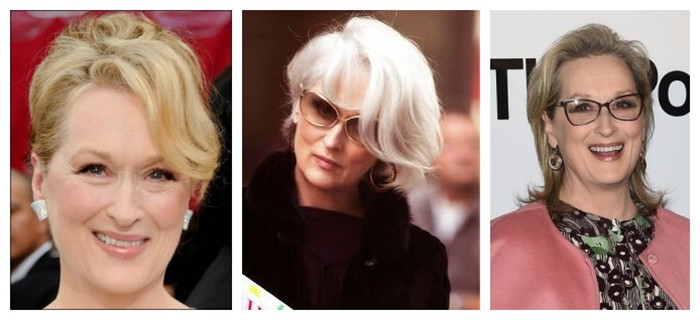 photo credit:google.com
Diamond-shaped face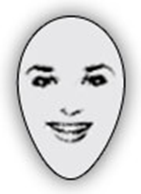 Characteristics: Diamond-shaped face is characterized by narrow forehead and jaw. Cheekbones are usually very prominent and face is the widest in that area.
Hairstyle: Diamond-shaped face demands a haircut which will widen the forehead and jaw, to create a balance with emphasized cheekbones. Hair should look fuller at the top, messy or wavy. Classic bob haircut will also suit you, and you can wear your hair behind                                                your ear – don't hide your cheekbones.
Avoid all hairstyles shorter than your chin line, as well as long straight hair with middle part.
Wear different styles of bangs, feel free to experiment with them.
Tyra Banks proves that bangs and waves look beautiful with diamond-shaped face.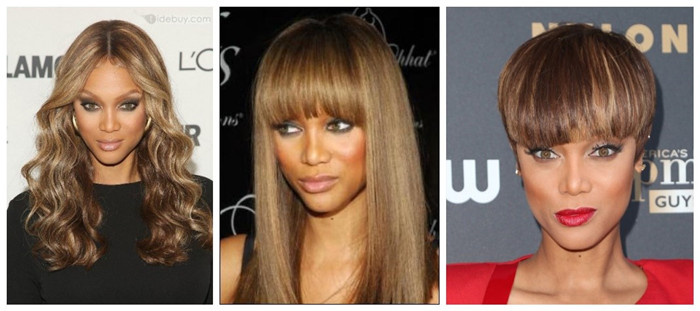 photo credit:google.com