Product was successfully added to your shopping cart.
Wig Purchase Guide
How to buy a wig for the first time
If you are here you must be considering purchasing a wig! For all my ladies out there here are a few things you might want to consider before purchasing one. What type of wig is trendy? What type of wig suits you? What problems to look out for? No worries we are here to help you answer all this. What type of wig is trendy? The amazing thing about wigs is how all they are all trendy during all seasons of the year. However, currently full lace wig, front lace wig, 360 lace frontal wig, and u part wig are dominating the market.
Full lace wig
Full lace wigs have a base that is made fully of lace unlike the lace front wig. This means full lace wigs are a bit more versatile than a lace front wig, because they can be worn in different hair styles
Description
If you are looking to achieve full natural hairline coverage this is the wig for you. It's a multi style wig for all functions that is made out of a full pre-plucked lace to naturally blend into your natural hair line. It is usually made in two categories; the glue-less full lace wig that features clips and combs, in addition to adjustable wig straps and and the other that requires glue to adhere the wig to the skin.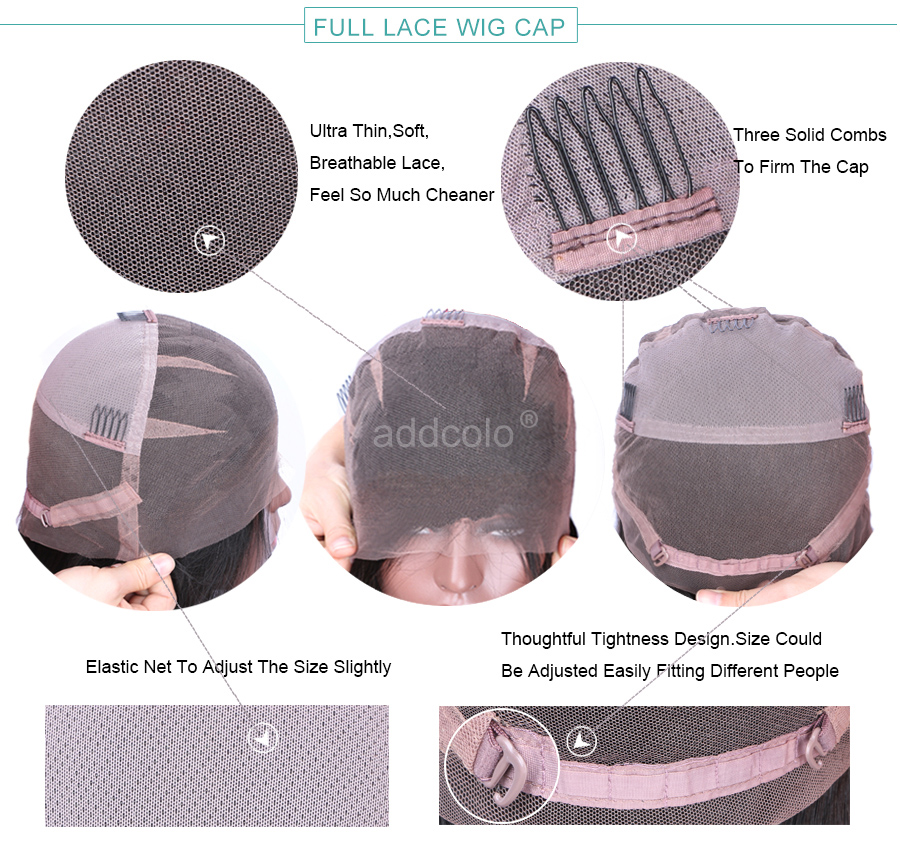 Lace Front Wig
A Lace front wig is precisely what it sounds like. This wig has a sheer lace entirely in the front edges of the unit gives the illusion of a natural hair line. The remaining part of the wig isn't made of lace; however of a thicker material that is as yet comfortable and still naturally disguised. It also features clips and combs, in addition to adjustable wig straps to hold it firmly. Our lace frontal lace cover half the head as and 13 "x6"with a small difference from our full lace wigs unlike the outdated 13" x 3" measurements that limit the length of the parting.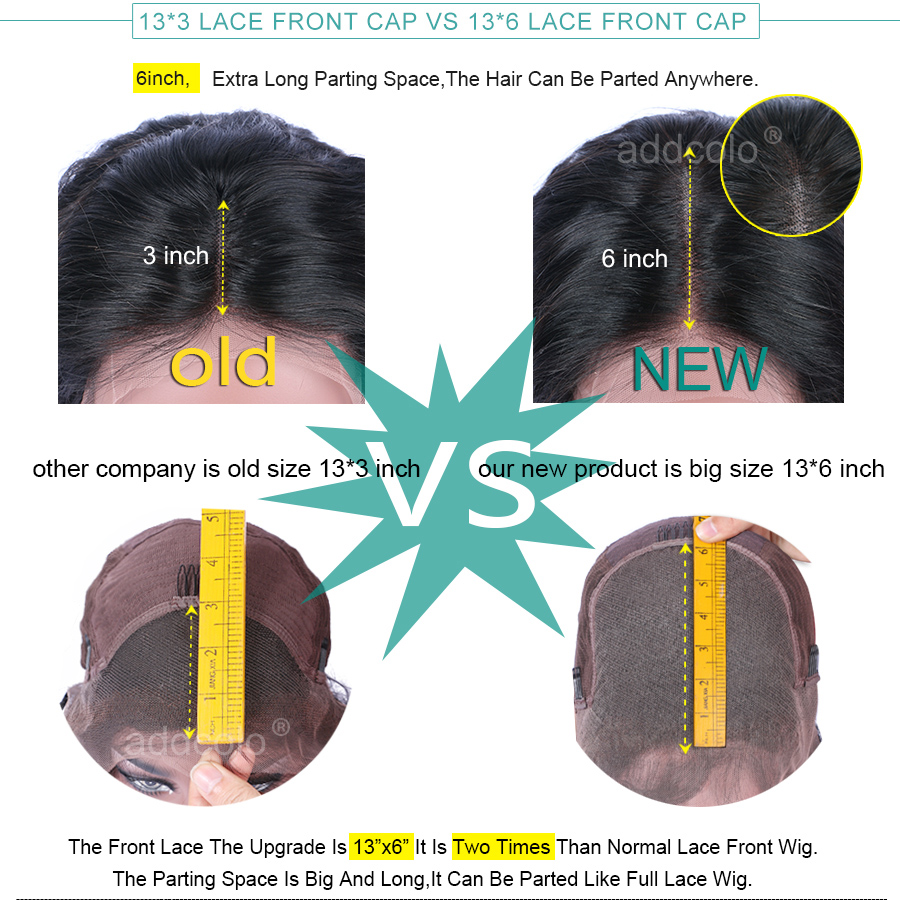 360 Lace wig
The 360 lace frontal wig is made with 360 frontal closure and hair weft sewing together, which combines the features of full lace wig and front lace wig. The top of the head is sewn with a full weft, so the density will be thicker than the regular lace wig.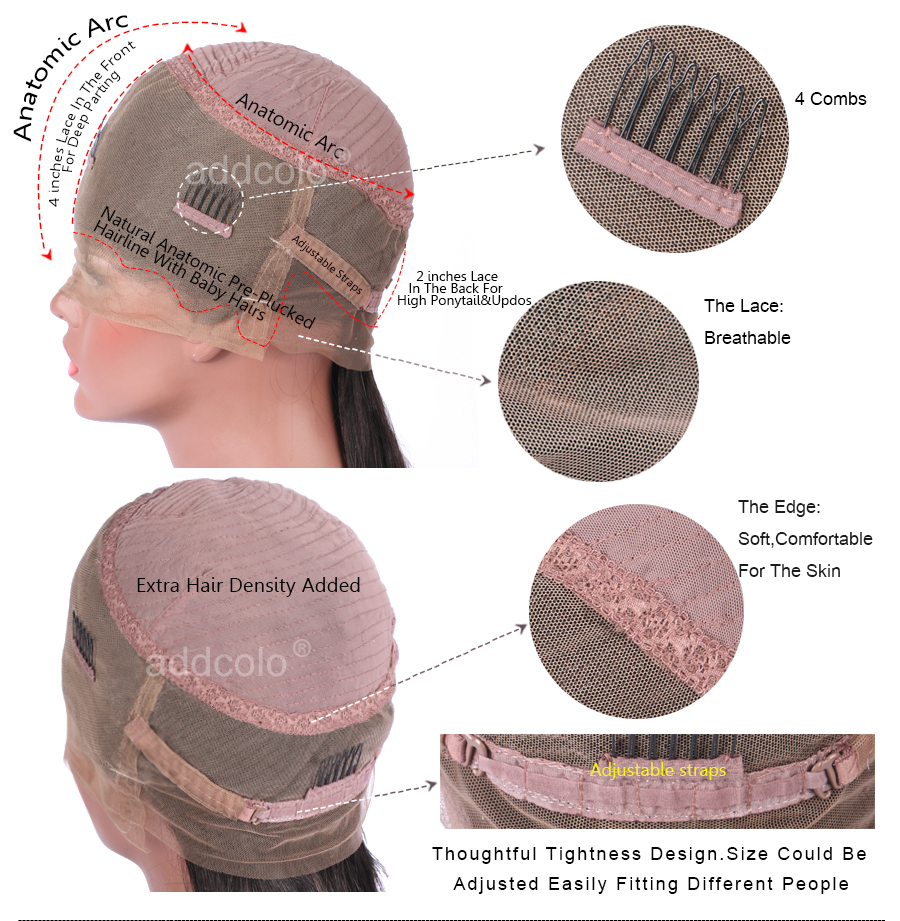 U-part wig
U part wig is all by machine sewing made, usually is middle side part, or there will be an opening on both sides (left side and right side).The U-part wig is designed to give the look of a sew-in but without the fuss and stress to the hair. Simply pull some of your own hair thru the U-shaped opening at top then blend and style. The interior of our wigs features clips and combs, in addition to adjustable wig straps.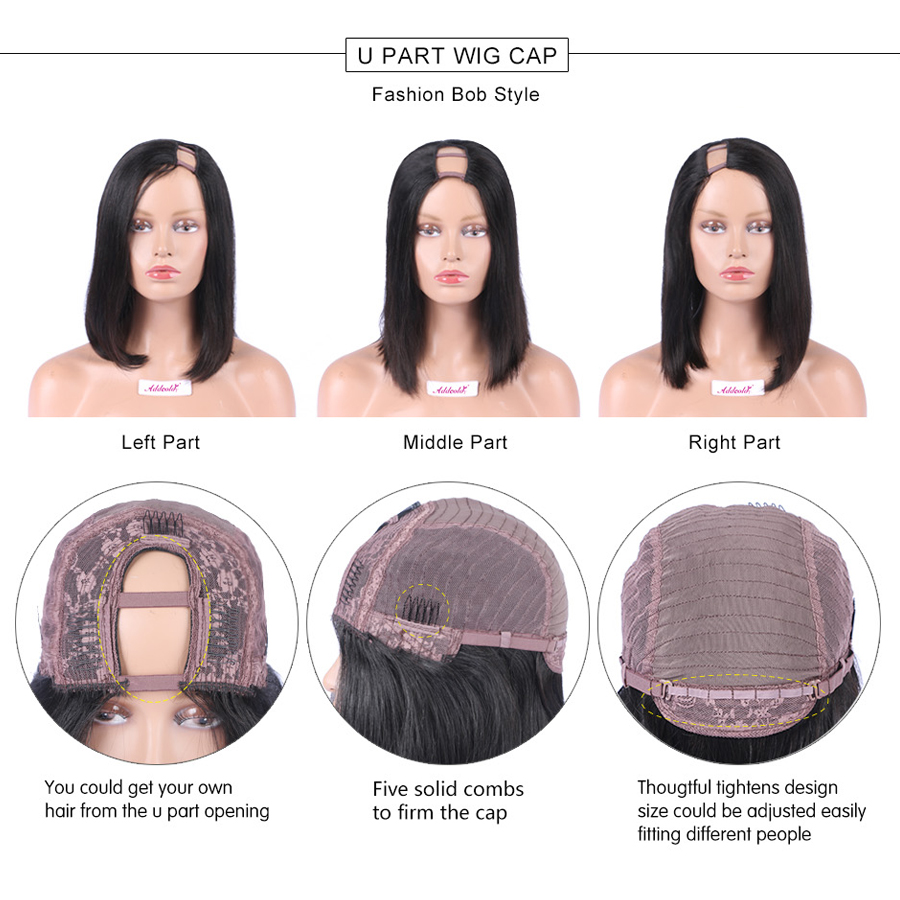 Hair type human or Synthetic
Human hair is the most effortless item to use in numerous styles of hair extensions and has a much more normal look than synthetic hair. You can even regard it as your own hair, which implies you can perm, color or bleach it. Human hair wigs like grown from our own scalp hair looks very natural soft, high density wouldn't even wear on her head a sense of weight, and can make a more natural hairline not obvious to let a person feel we are wearing a wig.. Synthetic hair is made of plastic, coarse and rough and easy to get tangled. Also, heating appliances shouldn't be used including dryers or flat irons. But as their price much lower than natural human hair, they're still good choices to make hair braids for short term hair extensions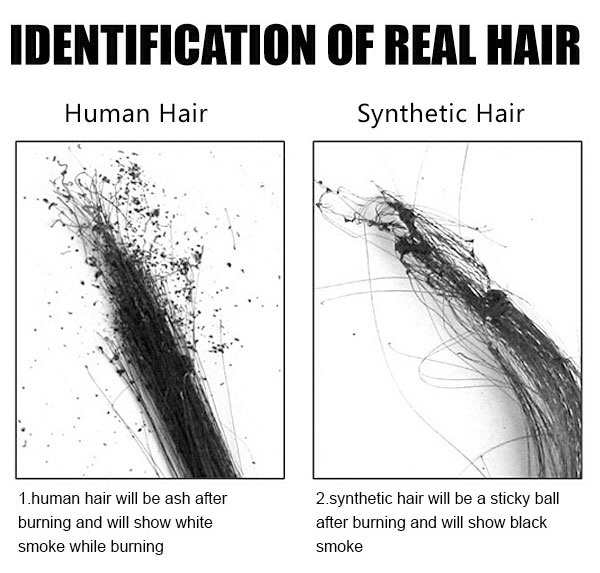 Measurements
To get a perfect fitting wig it's important that you understanding the measurements of your head as illustrated below. Without the measurements you might get a wig that is a bit bigger or smaller! You absolutely don't want that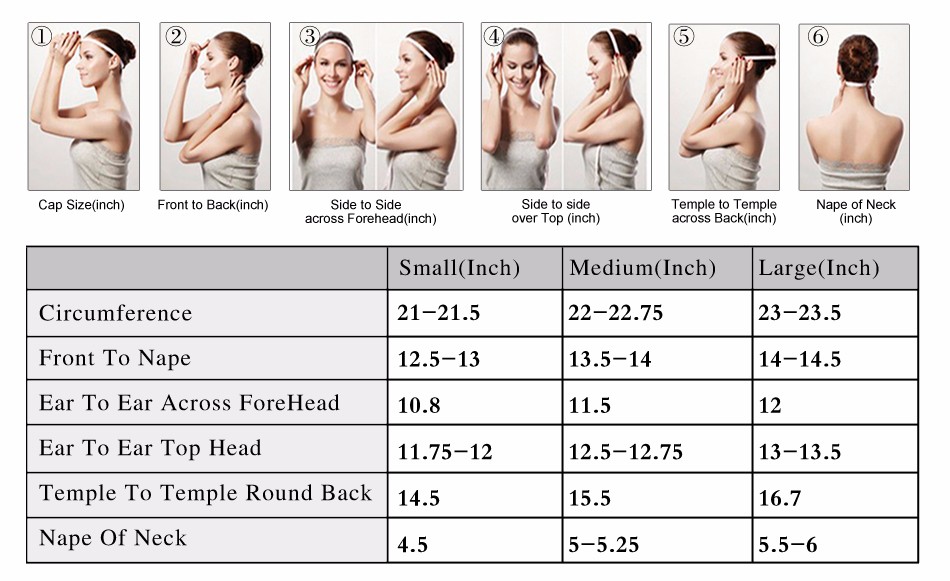 Color Selections
We offer a variety of color selections like single colors, ombre, highlights and mixed colors for the days that you feel like being spontaneous with a new look. Single colors are dark color and light color……………………..PLEASE ADD THE COLORS HERE Grayand some special colors…………………………………………….. Highlights color: This is when the hair is dyed in the piano theme the two colors alternate with each other; the variation can really vary according to your preference. Ombre color: With this type the roots of the hair are usually of a dark color compared to the rest of the ends that are usually a brighter color. Mixed color: Two different colors blend perfectly into one. This is basically when you try to form your own color by mixing different colors on the hair, the results make it impossible to pin point a single color. Due to different manufacturing techniques of different wigs, the colors can be biased. You can choose your favorite color according to the seller's color ranges.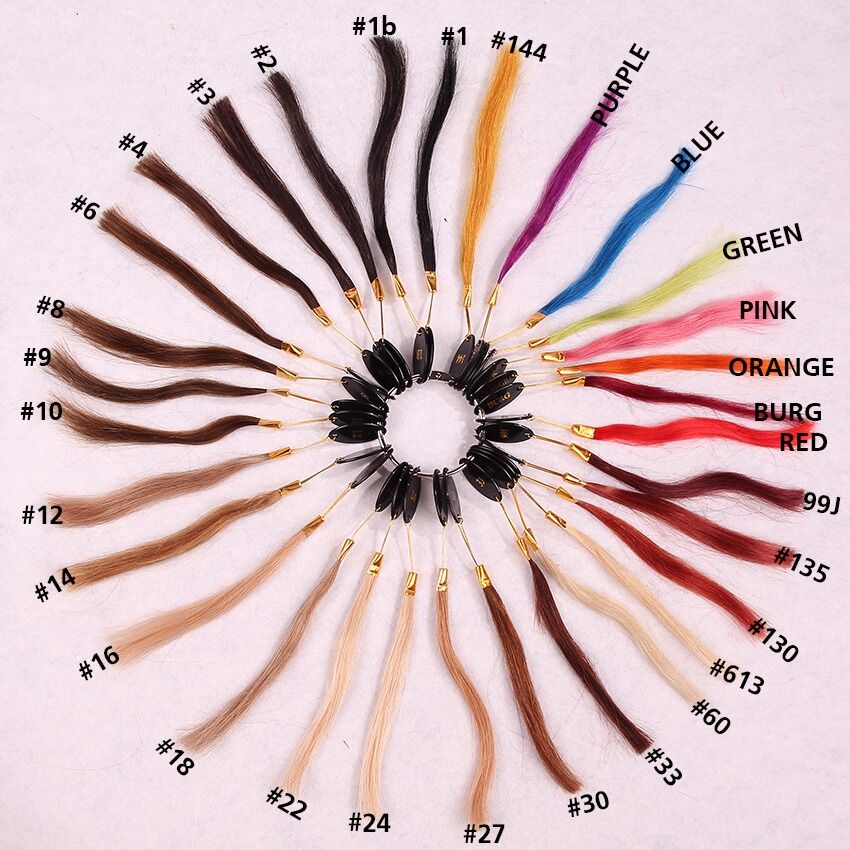 5. How to identify hair types.
There mainly three main categories of human hair; Straight: Soft, silky straight and extra smooth texture. Perfect for silky sleek straight styles.
Wavy:
Wavy hair has s-shaped curls down its length. Or, wavy hair has slight bends towards the ends of the hair while much of the hair can appear straight. Wavy hair can frizz fairly easily. Deep wave, loose wave
Curly:
Curly hair tends to do so down the entire length of the hair shaft. Frizz, shrinkage and dryness are the greatest challenges for curly hair types. Strand thickness can range from fine to coarse, but is most often fine.
Kinky curly can range from fine to coarse with s-shaped and z-shaped curls with everything in between! Kinky-Curly is the most fragile of the types. It is almost impossibility for kinky-curly hair if curl definition is a challenge for curly hair types. Besides, there are long-term worries about the shrinkage and dryness. afro curly
6. How to measure the length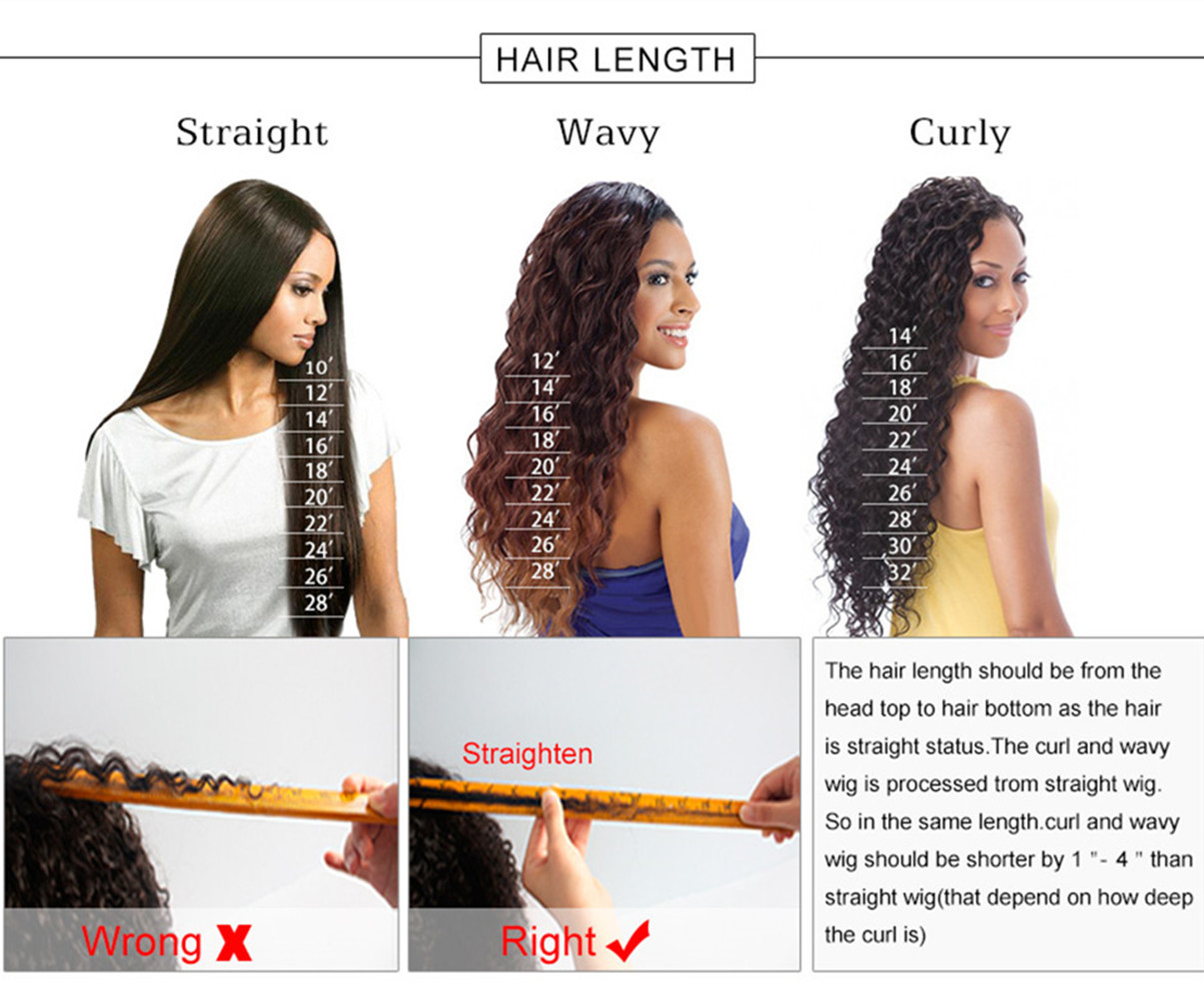 The length of our wigs is measured from the crown to the hair's tip (from front to back). The length of layered hairstyles will be described based on the length of the hair after styling – so if it is a curly wig the length the length may vary due to the spring in the curls. TOP TIPS: Use measuring tape to measure from the crown of your head to where you want the hair to fall. If the hair of the wig is longer than what you desire, you can have it expertly cut by your stylist.
7. How to measure the density
Density is defined as how thick or thin the hair on your lace wig will be. The standard and most popular choice is 120% which is Medium Thick Density. The average human head is considered to be between 100%-120%. Naturally growing hair grows differently for every person. Hair can grow thin (light) around the perimeter (hairline) and thick (medium) in the middle. Hair can also grow thick (medium) around the perimeter (hairline) and thickest (heavy) in the middle. Below is a Hair density