Wearing wigs instantly boost beauty, confidence, and overall fabulousness. With a good quality human hair wig, you can try limitless hairstyles while protecting your real hair from damaging styling products and heat treatments.  If you have gone through a difficult period of hair loss or breakage, wigs can also hide and protect your damaged hair or scalp during the healing period. Wearing wigs is friendly to the pocket too because you won't need to pay for frequent salon visits anymore.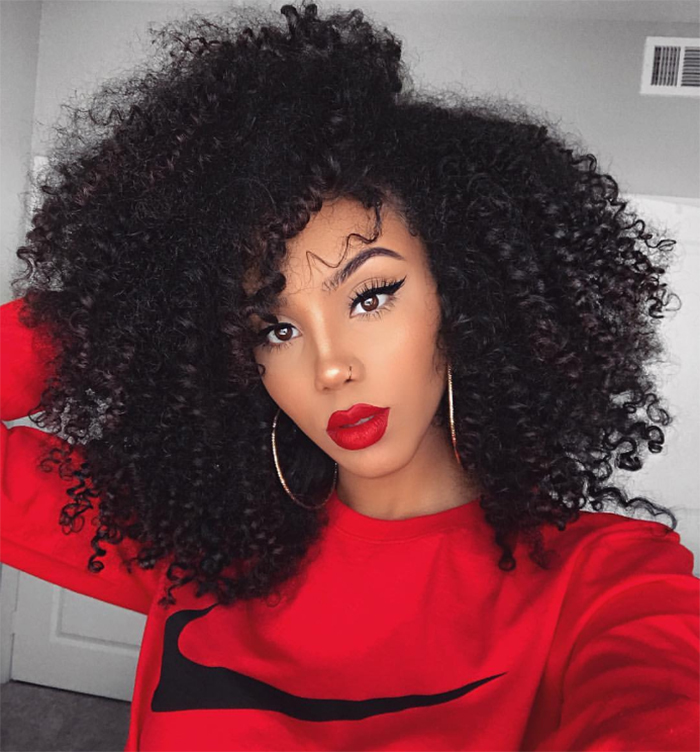 photo credit :pinterest.com
However, it is important to keep your real hair underneath the wigs healthy.  If wigs are worn improperly, they can put your hair roots and scalp under stress, leading to breakage. Here are some tips on how to keep your own hair strong and healthy while rocking those gorgeous wigs.
1.Treat your hair kindly
Be kind and gentle to your hair as you would treat a friend. Don't ever wear extra-tight buns, ponytails and cornrow braids that pull on your hair underneath the wig, and actually, don't do it ever even without a wig. Dr. Sandy Tsao, an instructor in Dermatology at Harvard Medical School, also warns about overtreating hair.  "Try to minimize a lot of the procedures that make your hair more brittle—such as straightening and perming," Dr. Tsao says.
2.Pamper your scalp
Blood flow on the scalp may be lessened when wearing a tight wig cap. Massaging the scalp increases blood circulation and reduces stress. In fact, a study conducted by the Department of Dermatology at the Aberdeen Royal Infirmary in Scotland found that massaging the scalp with a combination of several essential oils, including lavender, rosemary, thyme, and cedarwood improves hair growth.
The kneading and rubbing action during a scalp massage warms the skin and opens up the blood vessels. The increased blood flow results in the increased nutrient intake, enhancing the ability of the hair follicles to grow hair.
3.Protect your scalp edges at all cost.
Always wear a wig liner between your hair and the wig to shield your hair and scalp from friction damage.
According to a study published in the Archives of Dermatology, "Any style that causes too much tension and traction on the hair can possibly lead to scarring hair loss."  Frequent pulling of the hair from ultra-tight wig caps or excessive braiding can lead to Traction Alopecia, a kind of baldness caused by chronic traction or pulling on the hair follicle.
Find a wig liner that fits perfectly without being too tight and doesn't irritate your scalp.  Basic wig caps can be very drying to the hair. Cotton liners also absorb moisture from the hair, so a silk or satin cap is the best option to protect hair from harmful drying and breakage.
A wig comfort band may also help eliminate the need for combs, clips, or pins in securing the wig, thus preventing bald spots and headaches.
photo credit :pinterest.com
4.Moisturize, moisturize, moisturize
Leaving your scalp dry while wearing a wig is the worst thing you can do. Dry scalp and severe dandruff are two side effects of regular wig-wearing. Moisturize your scalp, most especially your hairline, before and after wearing a wig.
However, don't wear a wig with a damp hair. Make sure your hair is completely dry. Wearing it on damp hair will only encourage the unwanted growth of germs and fungi.
5.Take it off, gently.
Always be gentle when you take off your wig to prevent hair follicle damage especially if you've applied glue or tape to keep the wig secure.  Never sleep with your wig on. Give your hair a few days rest every once in a while.
photo credit :pinterest.com
6.Get a trim
Regularly getting a  trim does not only get rid of split ends but also ensures your hair remains healthy and grows faster. If you suffer from hair thinning, Dr. Tsao also adds that you ask can your doctor about taking biotin, a kind of vitamin that strengthens hair.