Do you know which kinds wig popular now? Do you know how to choose a suitable one? Here we will have a brief introduction and tutorial for you who is ready to buy a wig for the first time.
1. Introduction on Popular Hair Wigs
Before getting to the procedure of how to buy a wig for the first time, we need to have a rough idea on the advantages and disadvantages of on-the-market popular wigs, Full Lace Wig, Front Lace Wig, 360 Lace Frontal Wig, and U Part Wig. The former three are hand-hooked lace; while, U Part Wig is full machine made wig.
1.1 Full Lace Wig
Full Lace Wig is a pure hand-made wig, hooked with a small part of hair to the soft lace top by hand, thus achieving natural permeability inside and hairline outside for all sorts of modelling, for example, dovetail parts, small plait, tied ponytail, former balls, etc. If you prefer a glue-free cap, there will be one with comb and regulation strap for fixing.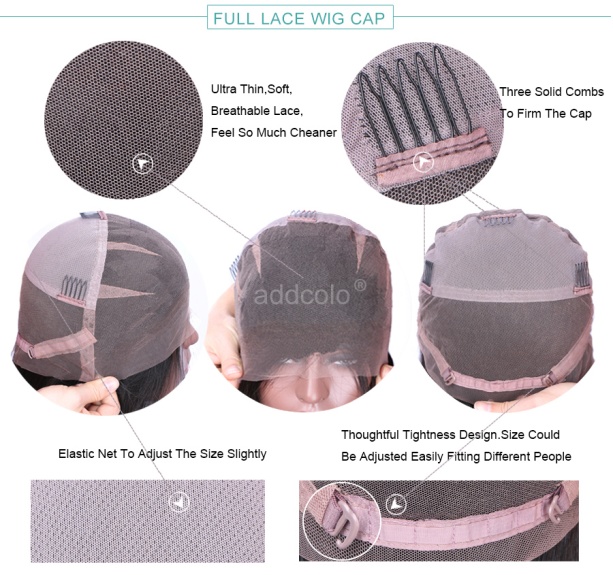 1.2 Front Lace Wig
Front Lace Wig, different from the all hand-made Full Lace Wig, is partially hand-made with a small portion of hair hooked to the lace, from the front hair to temples; and the rest part of hair cap is sewed with hair curtain by machine. Thus, the frontal lace part or hairline looks as natural as the way the real one is; but the back machine-made part can't be made to ponytail as it's easy to be detected.
At Addcolo, two sizes of Front Lace Wig are available, 13''x 3'' and 13'' x 6''. And we also have to admit that the latter one is more popular as its double hand-made lace part (could be compared with Full Lace Wig) but lower price.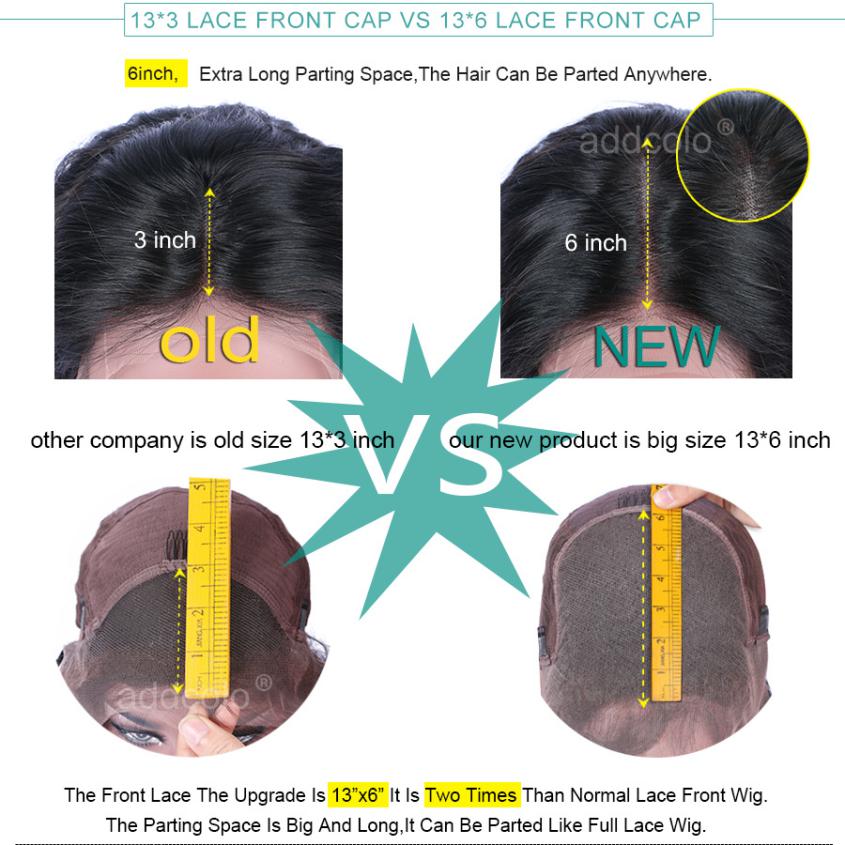 1.3 360 Lace Frontal Wig
The 360 lace frontal wig is 360 frontal closure and hair weft sewed together, thus combining the advantages of full lace wig and front lace wig. It features on loop of hand hook hair to lace, letting you have natural hairline and make ponytail hairstyle. The top of the head is sewn with a full weft, so the density will be thicker than the regular lace wig. So if you want to get a good price for a horse tail and a high-density headset, a 360 Lace Frontal Wig will be a good choice.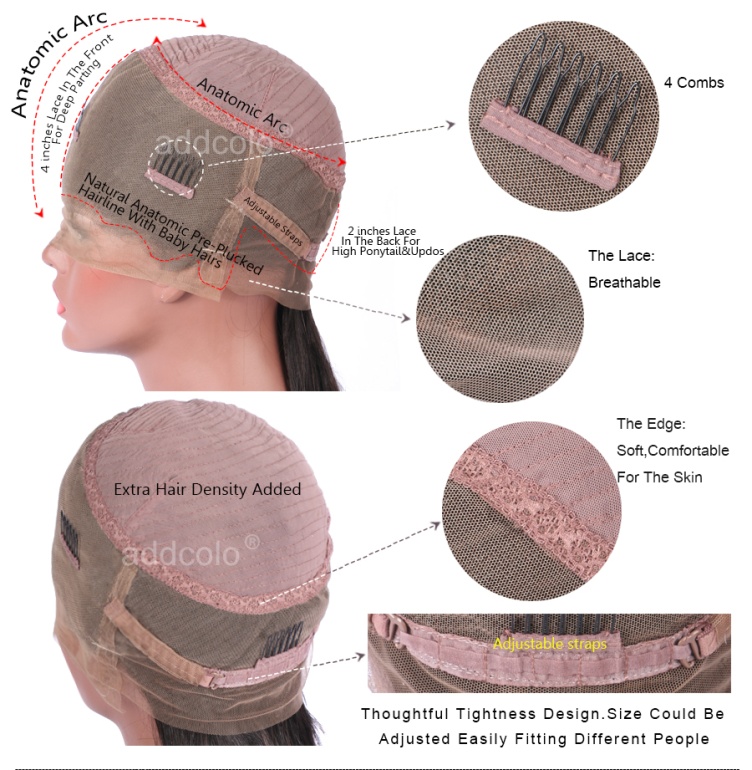 1.4 U Part Wig
U Part Wig is a piece of wig sewed by machine totally, in the middle or either side of which there will be a u-shaped opening for you to put out the natural hair to cover the wig to achieve a high density of hair in a most natural way as it shows your own hair and scalp. Of course, if you don't want to expose your hair outside, you can also sew a lace closure in the position of the u-shaped opening to form a complete headgear. If you don't prefer to glue or sewing a u-shaped head on your head, you can fix it on your head with combs and strap.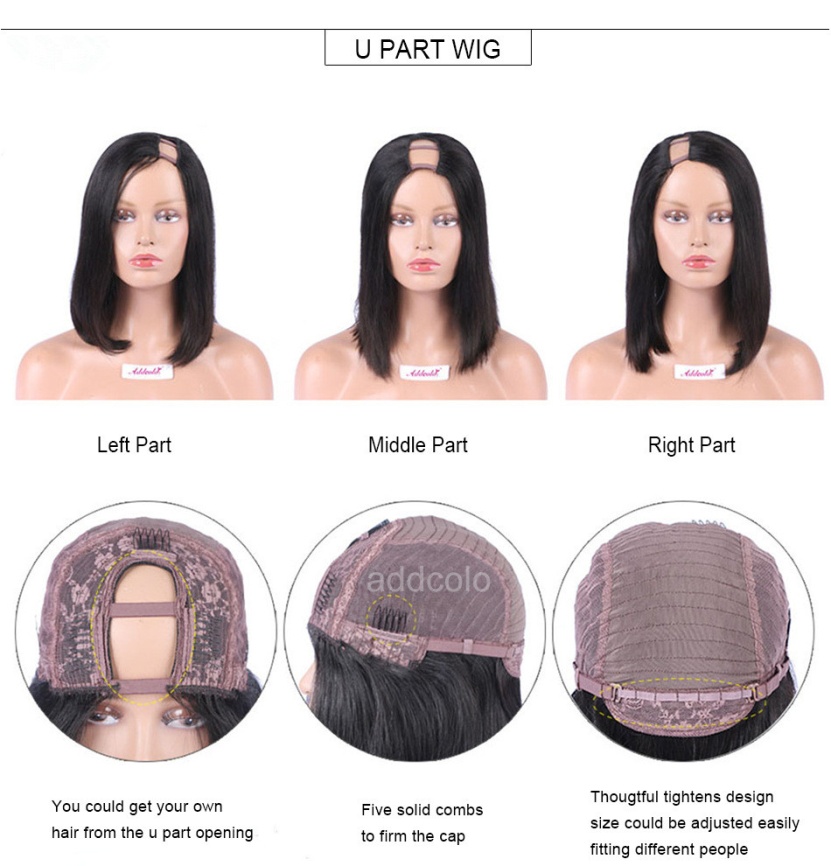 2. Human Hair VS Synthetic Hair
No matter whether you are the first time to buy a wig or not, getting to know what the hair is made from is essential as they will have a direct influence on the whole looking and your daily experience, that is, human hair and synthetic hair.
Synthetic hair looks brighter, less natural and feels rough. But the texture of the synthetic wig will be kept in a better way, which can be worn directly, but not re-styled, or applied with high-temperature tools, such as hair dryer with straight panel. Normally, synthetic hair sells very cheap, usually at $30-$60. If you want change your wig style in a short time, you can try synthetic wig (usually used on All Saints' Day or some Theme party).
Human hair wig, like grown from our own scalp hair looks very natural in a high density and feels soft in touch, which features an absolutely naturally hairline even wearing with a sense of high density and also can be cut and modeled with high temperature treatment, for example, to be pull straight. But at its cost, human hair needs much more daily case and surely it is much more expensive than synthetic hair. Normally, It can service at least one year. If you want to wear a wig for long time, the best choose is human hair wig (normally its length is 8-26 inch and price varies from $100 to $500 based on the hair length)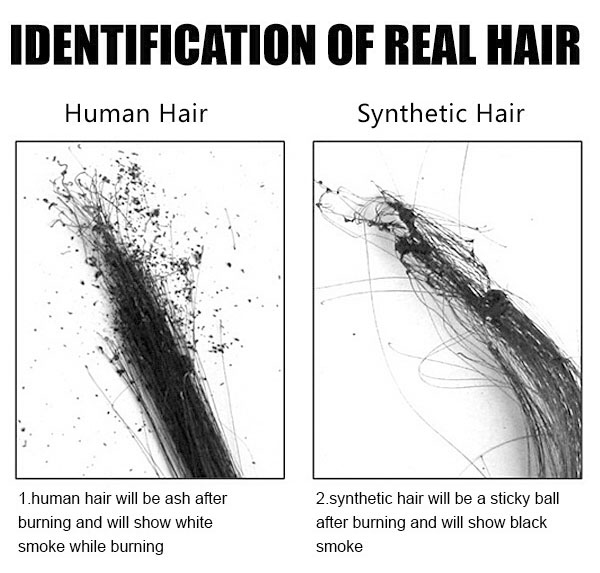 3. Points on choosing your final wig
When you have got a rough idea on what kind of wig you wanna buy, it's time to step into the final step on making a choice on essential points of a perfect wig.
3.1 To Confirm Your Cap Size
Knowing your cap size is critical. If the cap is too big, it will not fit snugly and fall easily; if it's too small, it's hard to be wear comfortably. Most people choose medium, even if it doesn't fit, because the straps on the cap can adjust the size of the net cap. So how to measure your head size? A measuring tape can help you out. With accurate net cap size, you can thus choose the best size. If there's none, some professional hair factory could provide custom-made service with telling them your size.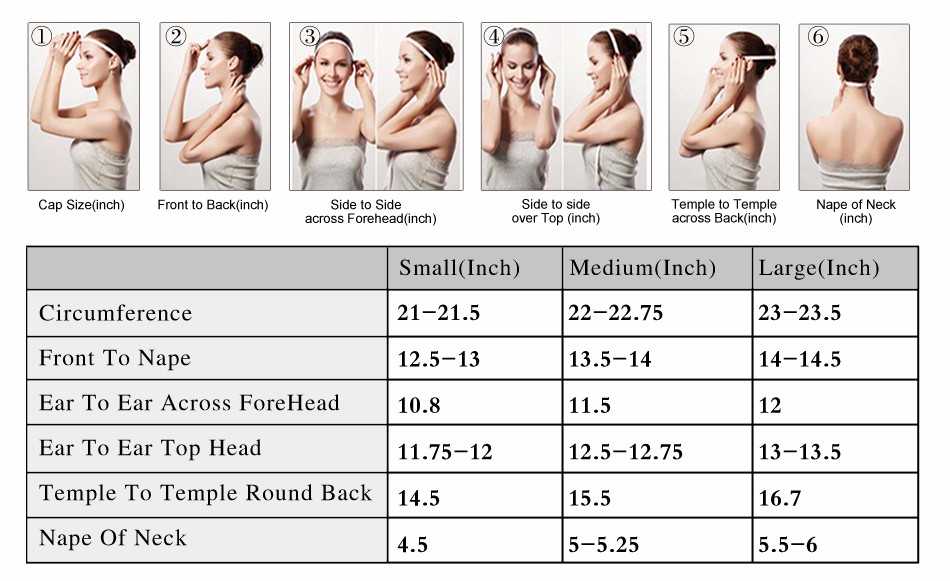 3.2 To Have an Idea on Hair Color
Generally, we could conclude four popular colors, single color, ombre color (two tone color), highlights color (piano color ) and mix color (two color mixed into one color). Please noted that only natural color is unprocessed and can be dyed to other colors.
Single Color: includes dark color and light color. Referring to the following picture, dark color is #1,#1b#natural black, #2#4#6#8#10; light color is #12#14#16#18#20#22#24#27#30#33#613#60#99j#burg#red#gray and some speical colors;
Highlights Color: piano color dyed in half to half or dyed parts of hair in ratio;
Omber Color: dark in hair roots and lighter in hair ends or inversely, to make the wig is like your own hair;
Mixed Color: to blend hair with colors perfectly before craftsmanship;
Due to different manufacturing techniques of different wigs, the color can be biased. You can choose your favorite color according to the seller's color rings.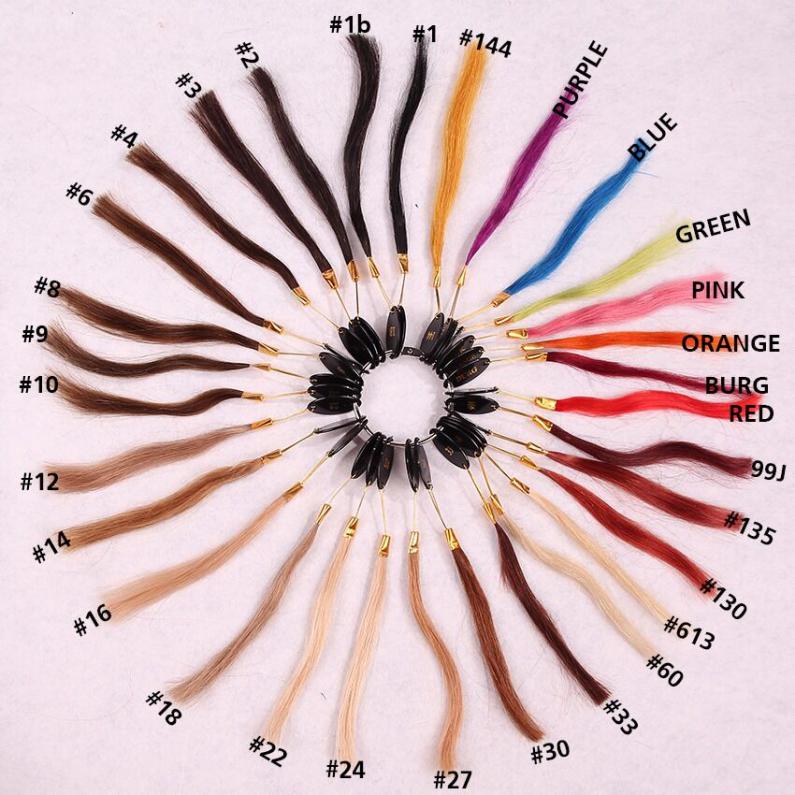 3.3 To Find Which Hair Style Suits You
Many people who wear wigs for the first time will think what kind of hair suits herself. Generally, there are three categories, straight, wavy and curly. If you want the hair full of texture, you can cut, straighten and shape, thus straight and wavy is your optimal choice; as many small curly can't be pull straight. Curly style is more suitable to a person who wants to make a fluffy and plump look or cooperates with original curly hair.
Recommend: Short Bob hair is very popular in recent years, as it will make a person look younger and capable. Surely, it is easy to take care of; And it has become a favorite of many Internet celebrities.
3.4 To Have the Perfect Hair Length
Most factories and brands have 8-inch to 26-inch in-stock, while some big ones have customized 28-, 30- and 32-inch wigs. Hair wig length is different with hair extensions on measuring hair length. Most people also don't know how to measure that; some measure the length from hair line to end and it is wrong. The right ways is to choose a beam of hair straightened to measure (bob wig except).
According to the style length, we can sort into 5 pieces of hair wig with merits and demerits, short hair, medium hair, long hair, bob cut hair and with bang hair.
Short hair and Bob hair look young, capable and easy to take care of. Medium hair and long hair look maturation and are easy for beautiful braids, ponytails or remaking hair texture.
Besides, you also need to consider your height and face shape when choosing the hair length.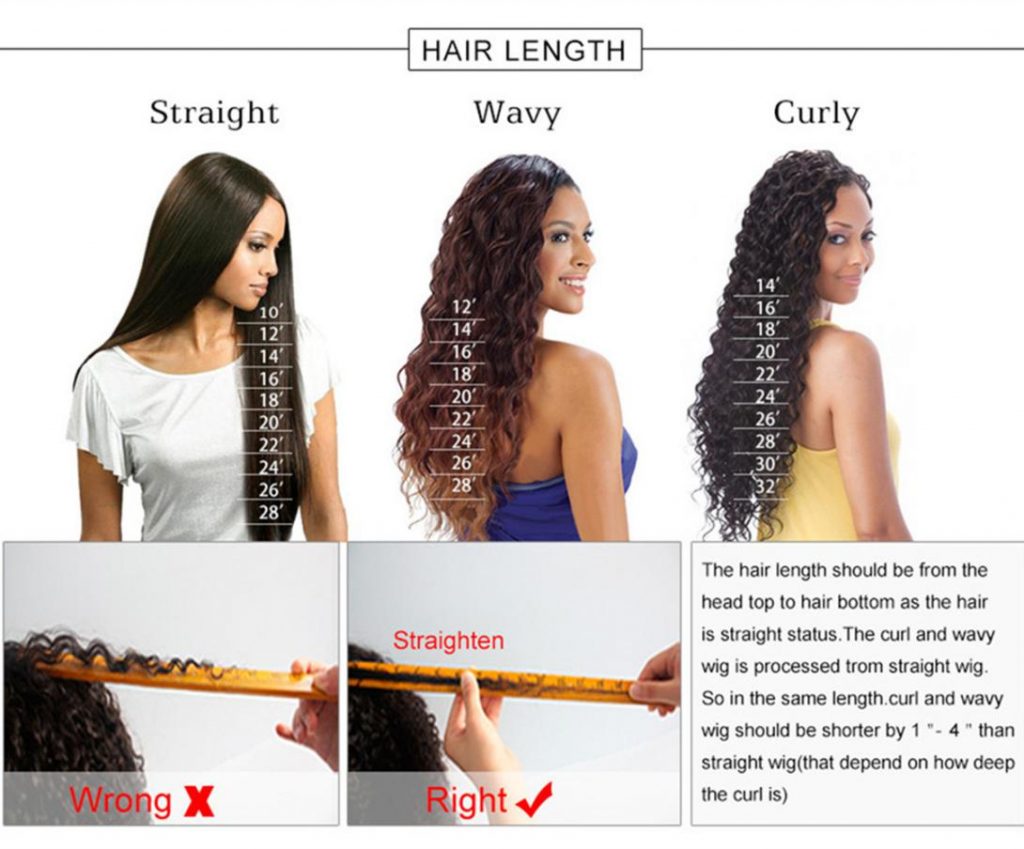 3.5 To Be Looking in Best Hair Density
Different densities mean different weight of hair used in a wig. Currently, the most common hair densities are 130%, 150% and 180%;
Though high density would use more hair than lower densities, but not showing more density is better, which will totally depends on your own needs.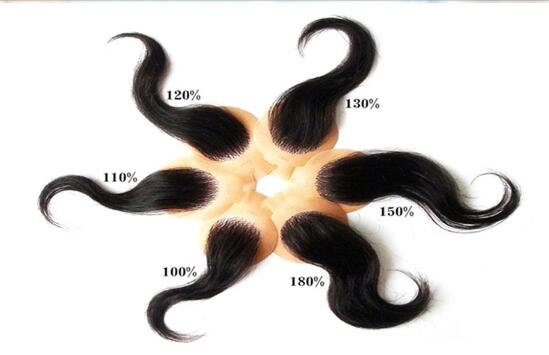 Low density means thin hair , easy to outcrop. Higher density, it looks unnatural and thus is easily to be detected;
Recommendation: if the wig style is straight or big wave, high density comes first; If the wig style is small curly or full texture, then it normally comes with 130% density.